Our camping cabins are beautifully located near both the forest edge and the stream, Capon Run. These cabins allow affordable warm-weather (May 1 to November 15) sleeping space for groups of up to 100 people. They can be reserved on their own, or as part of a Tabernacle camping group.
Five cabins are located across the stream, nestled against the mountain, and are often reserved by groups staying in the Tabernacle area. Five cabins are on the near side of the stream closer to the pool, often reserved by groups using Sassafras Pavilion.
Scroll on down the page for photos and more information. Or, use the buttons below to skip down to a specific section.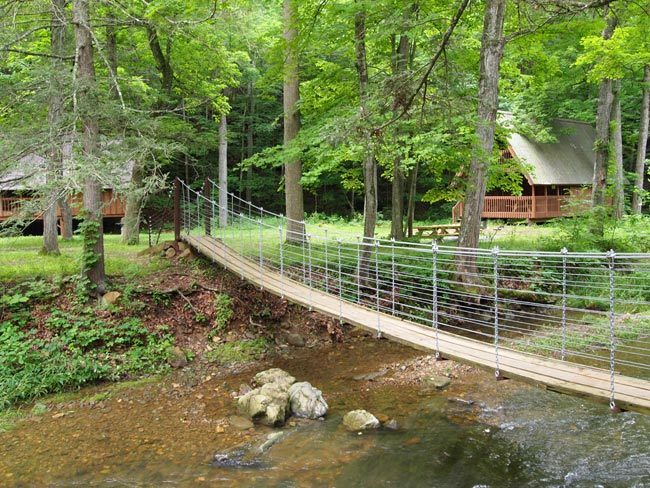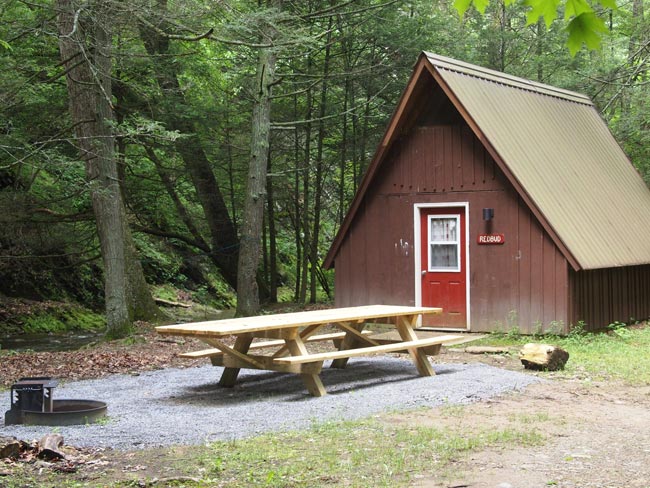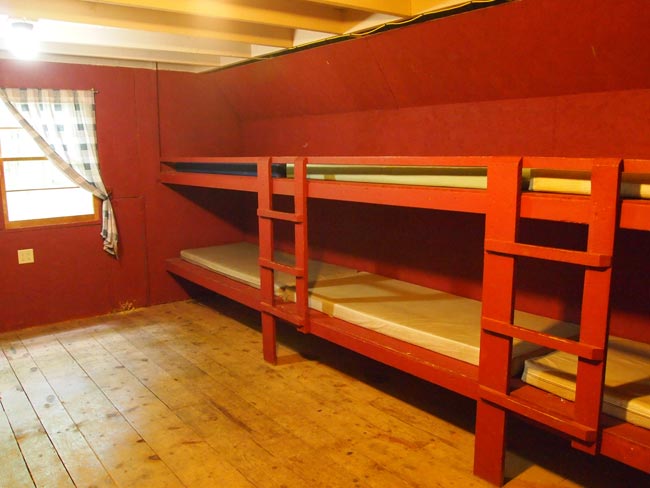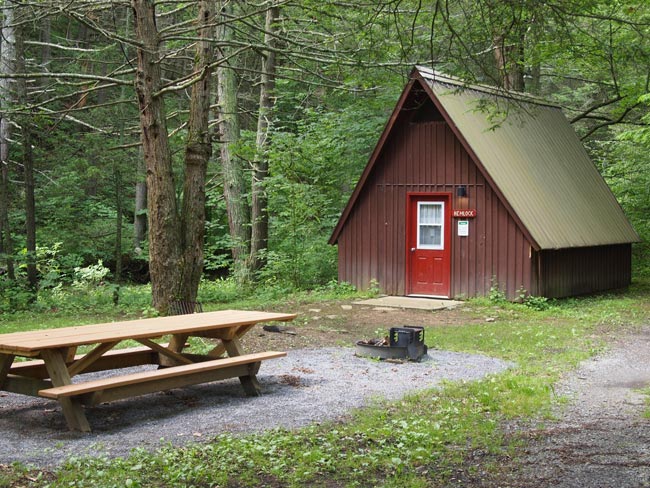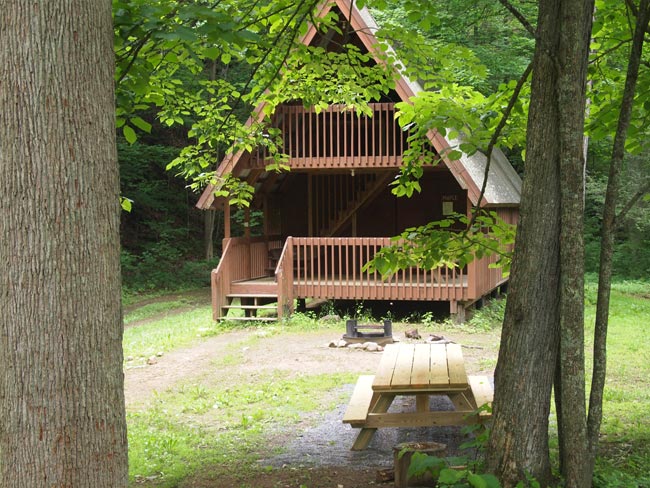 .
Camping Cabin Amenities
Each cabin sleeps up to 12 people in 11 single bunks and one double.
The camping cabins are not available for rental mid-week when Highland Summer Camps are in session (mid-June thru early August).
All camping cabins are located a short walk from either of two bathhouses.
All cabins have lights and a 15A circuit for minor electrical use.
Each cabin has a picnic table and a fire ring for outdoor cooking.
Firewood is available for a modest fee. Please do not bring your own firewood.
Walnut and Maple cabins have lofts for extra rainy day space.
Swings, a ga-ga court, a bouldering wall, and recreation fields are located nearby.
Camping Cabins Availability Calendar
Use the calendar below to see which facilities are booked and which might be available. Note that seasonal facilities are not bookable over the winter, and no facilities are bookable more than 2 years in advance. These calendars are updated about once a week (usually Friday mornings), so it is possible that a facility that appears available has been recently booked. If you request a reservation or a quote, Highland staff will be able to confirm if the dates you are interested in are in fact available. Availability calendars for ALL facilities are viewable here.
Partially booked (hover for details)
Camping Cabin #1, Sweet Birch
Camping Cabin #3, Hickory
Camping Cabin #7, Hemlock
Camping Cabin #8, Red Bud
Camping Cabin #9, White Pine
The rate sheets below are printable pdfs that summarize and compare rates for ALL Highland facilities and services in order to help you as you plan.
Camping cabins are not available during summer mid-weeks from mid-June to early August, since they are used by our summer camp programs.