Important dates to remember:
June 3, 2023 - Summer Staff Work Day
Come help get the summer camp area ready for campers! Choose the morning (9:00-12:00) or afternoon (1:00-4:00) shift, or do both! Lunch provided. Contact Dean if you can help.
June 11, 2023 - PreCamp Training Check-In and Staff Commissioning
1:00-3:00 - Team Leader meeting
3:00-4:00 - All staff check-in (all summer staff except LITs)
4:30-5:00 - Staff parent meeting
5:00-6:00 - Supper for staff and their families
6:30-7:30 - Staff Commissioning service - Bring your own lawn chair, this service will be held in the grassy area near Martin Manor (weather permitting)
2023 Calendar and Schedules
Team leaders will work from late May/early June to early August
Counselors will work from early June to early August
All other staff will work from early June to early August
PreCamp Training will include several workshop days that are not part of the calendar below. Staff are also asked to attend the Staff Commissioning service (June 11).
Most weeks, staff are expected to arrive at camp on Sunday afternoon and stay until Friday evening. See the calendar below for more specifics (pdf version here).
You are expected to be present and available for your entire term of service. If you are unavailable for certain weeks, you must indicate that on your application and confirm the time off when you sign your work agreement (before the summer begins).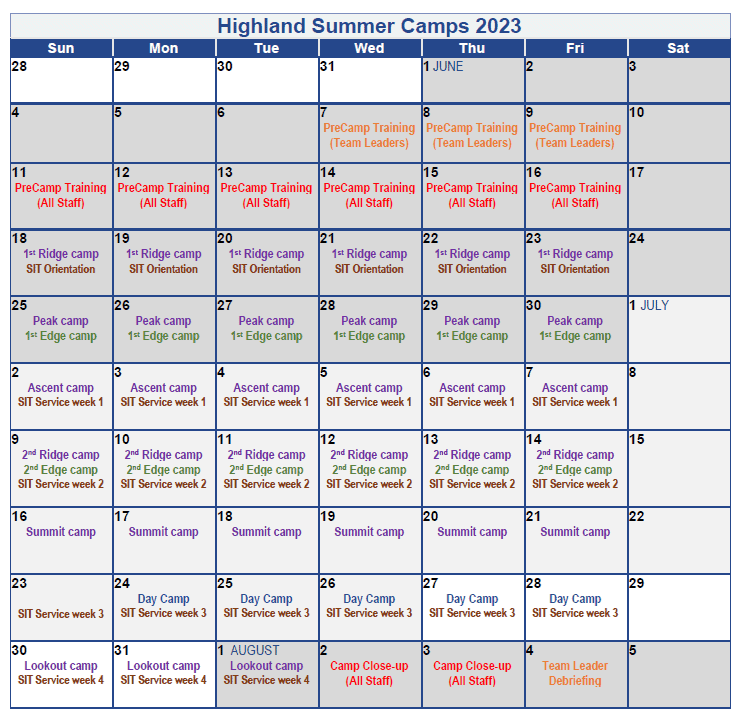 Note: Lifeguards may be needed for more than just summer camp, so that we can offer the pool to our guest groups. There will be opportunities for lifeguards to work weekends from Memorial Day to Labor Day, plus occasional midweek times.
Daily/Weekly Schedule - While the activities and details of each week will vary somewhat, there is a predictable rhythm to the camp week. This sample schedule shows a week of Ridgeline camp (the 10- to 12-year-old age group); younger groups will have earlier bedtimes and more activities with their cabin group, while older groups will sleep in later, have more nighttime events, and will individually select some daily activities.
Note: The items on the sample schedule most closely apply to the counseling staff who spend their week with the campers. Non-counseling staff will have other duties -- such as meal prep and clean up, work projects, or organizational tasks -- that will take up parts of their days.
What to bring to camp
It is important to bring necessary items while also avoiding packing too many things. Counseling staff will stay in many different cabins during the summer, and will not have access to dresser space. A suitcase or duffle bag can help you keep your belongings organized. Some items can be stored in small lockers in the staff kitchen and pool house. Non-counseling staff will share a room with other non-counseling staff of the same gender, and will have some shared dresser space.
Keep in mind high standards of modesty in your choice of clothing and swimwear. These standards are higher for staff than for campers.
Packing List
Everyone:
Staff manuals and other materials that were sent to you
I-9 documentation (details here)
Completed W-4 and VA-4 tax forms (details here)
Sleeping bag, pillow, sheets
Rain gear (poncho or rain coat)
Flashlight or headlamp
Bible and personal devotional material
Clothing and toiletries
A face mask for each day of the week (optional)
Sneakers
Modest swimwear
A book bag/drawstring backpack
Water bottle
A cup, plate, and bowl for personal use in the staff lounge
Insect repellent, sunscreen
"Creative" clothing for skits and/or dress ups
Small notepad and pen or pencil
A 3-ring binder (2")
Personal medications
Laundry bag
Wristwatch
An old set of clothing that you don't mind getting stains on
2 padlocks or combination locks
A folding lawn chair
An instrument (such as a guitar) if you have one and are interested in helping with music
Required for Counselors, suggested for everyone:
Sleeping pad for sleep-outs, if desired
Alarm clock (battery or wind-up)
Appropriate books to read to campers
Sturdy hiking shoes or boots
Heavy socks for hiking
An extra pair of old clothes and old sneakers
Please initial all your personal items and clothing with a permanent marker prior to your arrival at camp, and check periodically to make certain the initials are still legible. Also remember to mark any clothing, such as staff shirts, obtained during your stay at camp.