Highland has always had a commitment to offer free personal retreats to pastors and their families, usually in one of our cottages, as a way to encourage wellness in the broader Christian church. One donor learned of this commitment and decided to boost Highland's ministry to pastors through a generous contribution toward improving our two cottages. As a result, Creekside Cottage now looks like a fresh building and Dogwood Cottage has a new three-zone heating and cooling system. Dogwood will finally be warm in winter without supplemental heating! We have hopes for additional renovations to Dogwood Cottage, but these are on hold for the moment.
The transformation of Creekside includes:
A new two-zone ductless mini-split that replaces radiators and window units.
A beautiful sunroom that replaces a tired screened porch. (Before and after pictured above)
A completely renovated bathroom that now features a beautiful tile shower. (Pictured below right)
New closet storage in the bedroom. (Pictured below left)
A new dining table, pull-out sofa, and recliner that replace worn furnishings.
Exterior siding and soffits that are now repaired and refinished.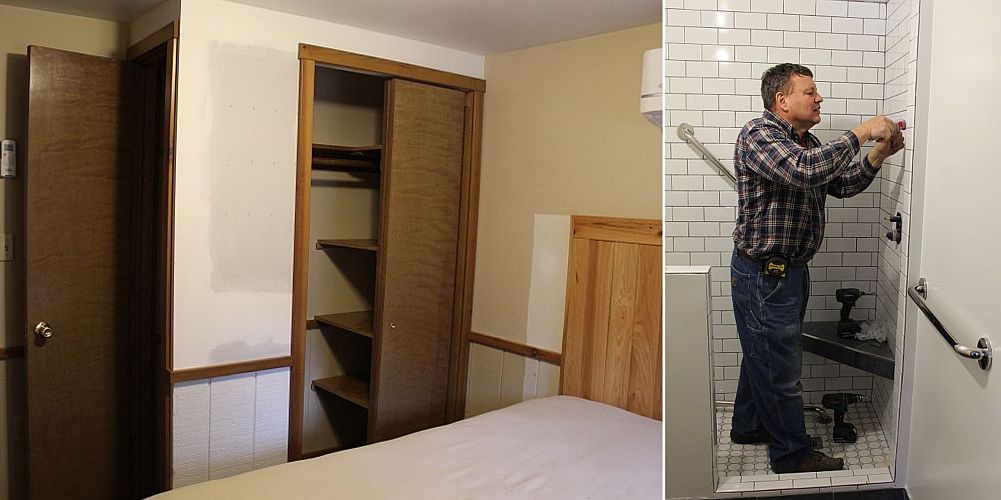 Creekside and Dogwood are occupied by summer camp nurses and speakers throughout much of June and July. Outside of these summer months, the cottages can be reserved by individuals and families. Retreats at the cottages are often blessed occasions. Our last guest in March was a man from Maryland who enjoyed an extended 'prayer' weekend in Creekside. Before he left he put a hold on a future date, sharing, "I need to get my children out to this place!"
Please make sure your pastor knows about our commitment to pastors and their families. In this way, the blessing this generous donor gave to Highland can be shared among many congregations and faith communities!